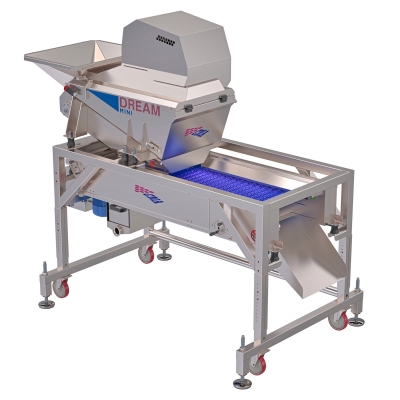 DREAM MINI
DREAM MINI is the new destemmer from C.M.A. made for the delicate grape process.
The machine is built with thick stainless steel sheets, and with an impressive outline for a solid and heavy frame.
The destemming of grapes is achieved thanks to a swinging motion of a plastic cage properly perforated according to the variety of grapes.
This represents a delicate method to pick grapes off obtaining intact bunches, thanks to its gentle movement.
The frequency of the cage swinging movement is controlled by using an electronic speed variator, which allows the destemming process to be adapted to the several kind of grapes. In this way, grapes are not crushed and stalks are preserved.
On the lower part of DREAM MINI there is a roller sorting table to separate the stems from the whole destemmed grape (ROLLTEC). It is made up of rollers different in their opening which eliminates all MOG from the destemmed parts.
DREAM MINI has a very basic design with only two opening parts:
- feeding hopper
- outlet cover
Both are hinged to the machine in order to make the machine easy to be cleaned and inspected.
The internal part of the new destemmer DREAM MINI is easily reachable both from the feeding hopper and from the outlet side.
DREAM MINI is on a height adjustable heavy frame, in order to be adapted to the different machines requirements. The frame is on four castors with brakes for easy moving and it is on four levelling feet to guarantee the stability of the machine while working.
The control panel of DREAM MINI, which is made of stainless steel, allows the setting of the swinging intensity of the cage and of the speed rotation of the lower rollers.